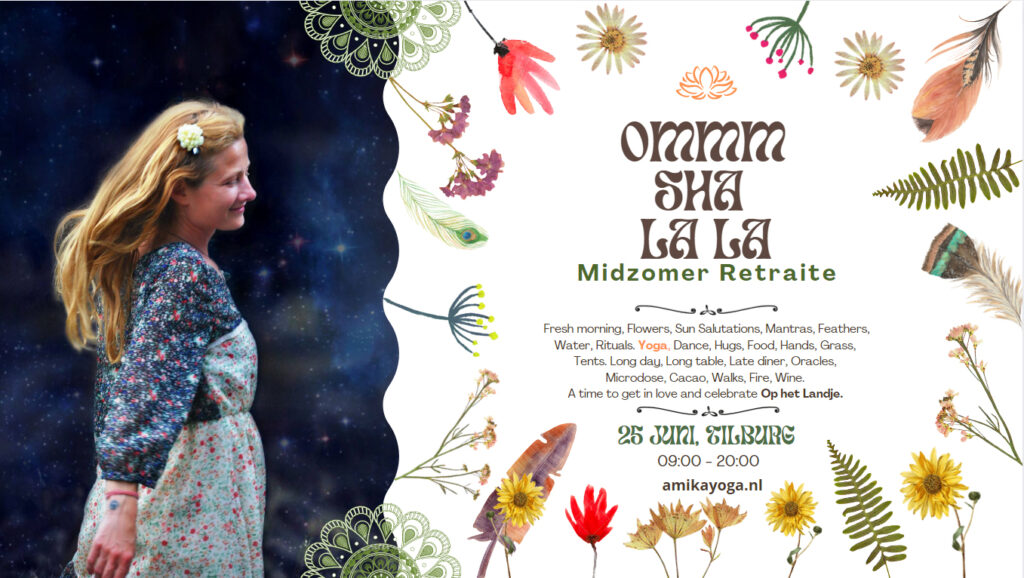 24-06-2023 Midzomer Retraite
Fresh morning, Flowers, Sun Salutations, Mantras, Feathers, Water, Rituals. Yoga, Dance, Hugs, Food, Hands, Grass, Tents. Long day, Lang table, Late diner, Oracles, Cacao, Walks, Fire, Wine.
=>>: A time to get in love and celebrate Op Het Landje! :<<=
𝗛𝗼𝗲 𝘇𝗶𝘁 𝗱𝗲 𝗱𝗮𝗴 𝗲𝗿𝘂𝗶𝘁?
𝙊𝙥𝙚𝙣 𝙟𝙚 𝙤𝙜𝙚𝙣
Welkom Op het Landje!
Goedemorgen hippie lovers! Wij verwelkomen je met bloemen en veren.
Laten we de zon begroeten, en zitten met de smaak van cacao, geur van wierook en de klanken van de mantra.
𝙍𝙚𝙠 𝙟𝙚𝙯𝙚𝙡𝙛 𝙪𝙞𝙩
Somatic Yin Yoga zal je belichaamde dans zijn. Schommelen, rollen, draaien, pulseren… Later in de dag zinken we in een rustige transcendentale yoga gevoel.
𝙋𝙧𝙤𝙚𝙛 𝙙𝙚 𝙨𝙢𝙖𝙖𝙠 𝙞𝙣 𝙟𝙚 𝙢𝙤𝙣𝙙
Een Boeddha Lunch van onze veganistische master Brigitte!
𝘿𝙚 𝙨𝙩𝙚𝙧𝙧𝙚𝙣 𝙬𝙚𝙩𝙚𝙣 𝙤𝙫𝙚𝙧 𝙟𝙤𝙪
Duiken in jouw natuur met blote voeten, zomer rituelen en Astro magie.
𝙑𝙚𝙧𝙗𝙞𝙣𝙙, 𝙡𝙖𝙘𝙝𝙚𝙣, 𝙫𝙤𝙚𝙡𝙚𝙣, 𝙫𝙤𝙡 𝙨𝙚𝙣𝙨𝙖𝙩𝙞𝙚
Dit retraite doen we het samen. Een flow van improvisatie en vrijheid is wat we je willen meegeven. Afsluiten we met heerlijk warm diner, vuur en wijn!
𝙎𝙥𝙧𝙞𝙣𝙜 𝙟𝙞𝙟 𝙢𝙚𝙩 𝙤𝙣𝙨 𝙢𝙚𝙚 op het groene graas van Op het Landje?
Locatie: Op het Landje Tilburg bevind zich 3 min fietsend vanaf de Piushaven en 10 min, vanaf Centraal Station. Het adres is Gildestraat 38, Tilburg. Laat ons weten als je met auto wil komen.
Tickets: prijzen tot eind 2022
Regular Ticket 111,-
Regular Sponsor Ticket 127,- Sponsor someone who have it difficult to pay for self-care and healing!
With every sponsor ticket we open a new sponsored ticket spot.
You will get a special present from us! Thank you, you are our angel!
Regular Sponsored Ticket 94,- With every sponsor ticket we open a new sponsored ticket spot.
You are not receiving less then another participants.
Meedoenregeling mogelijk
Dit bedrag is inclusief: Ceremoniële Cacao – 3 Yogales – Boho veer haarband – Persoonlijke Astro chart – Wandelen – een Ritueel – Ruimte voor jezelf – Thee & drinks – Lunch – Tussendoor – Diner. Een special guest!